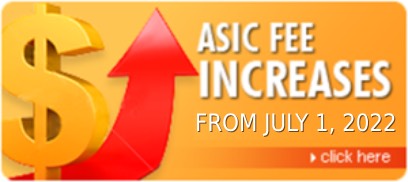 Rapid Companies along with our industry professionals are able to provide the following Company Registration and Corporate Secretarial Services. Because we register companies online with ASIC (Australian Securities & investment commission) we are able to provide and guarantee fast and efficient response times to your company incorporation requests. In most circumstances we can fax or email you a copy of your Certificate of Registration within 1 hour of receiving your order. The certificate of registration will confirm your company registration and ACN (Australian Company Number).
With the assistance of our legal professionals and tax law expert we are also able to provide, Discretionary / Unit / Bare Trusts as well as Self Managed Super Funds. These documents are prepared by legal practitioners and updated in accordance with new law or regulations pertaining to those industries. We provide these products fully bound along with detailed instruction letters from our legal experts.
Please call our office if you require any information about our company registration or corporate services.
RAPID COMPANIES Registration Services
Online company registration is a quick and easy process using our online forms. If you are an individual looking for quick company registration services, you can also be confident that we are only a phone call away if you have any questions at all.
For professionals, using Rapid Companies' online company registration forms makes providing a superior service to your clients even easier.
All Directors must now have their Director ID in place prior to being appointed as a Director of a company.
The proposed Directors will have to sign up for a MYGOV ID first https://www.mygovid.gov.au/set-up before applying for the Director ID through https://www.abrs.gov.au/director-identification-number
And, as you can see from our prices below, our rates for company registration services are very reasonable, and you also receive that premium level of service which will help to ensure a smooth company registration process for you or your clients.